The greatness of your digital product is highly dependent on the choice of your software development company. A good decision can help you get the solution catering to your requirements, but selecting a poor service can waste your time and budget. But how do you spot and differentiate which software company suits your business? This article has the answer.
After this paragraph, you will read about the six must-have features of software development companies. You will also understand the types of software services most software firms offer. And finally, you will explore ways to determine the best software building company for your next project.
6 Qualities of a Software Development Company


Let's explore the six characteristics of a good software development company. 
1. Focused Towards Project Objectives
A top software development company build products according to well-defined objectives. It is essential that your tech partner must make and follow a strategic plan for your project. This assures satisfactory step-by-step project execution and successful completion.
2. Great Leadership Skills
Many clients get into contracts by judging the provider's technology stack and experience but ignore their leadership. Remember, you cannot expect great results if development services lack leadership qualities.
Why? Because in the presence of leadership, there are fewer chances of resource wastage and increased opportunities for getting the best outcomes. So, when looking for a software development company, ensure the team possesses leaders. A leader will direct the entire team to fulfill your requirements efficiently. 
Also Read: The Agile Leadership Trio: The 3 Pillars of a Scrum Team
3. Project Management at Its Best
The trouble begins when your product is still in the process of completion while the promised date is already up. This wastes time and creates a gap between demand and supply, allowing competitors to benefit by launching their solutions before you.
Therefore, a software development company with an established project management department ensures timely deliveries within your budget. The responsible person will be in charge of managing resources, so there are no delays.
4. Professional Team of Software Developers
An excellent software development company has rigorously vetted software developers in its development team. All the team members should have high experience and a strong knowledge of old and new technologies. They should possess great skills when dealing with different frameworks, tools, and programming languages. 
5. Transparent Communication
Clear and persistent communication is vital in software development. It helps you stay up to date on the progress. A first-class software development company will always allow you to communicate without obstacles. 
6. Quality Assurance 
One of the essential traits of a software development company is quality assurance. You should pick the one with a dedicated team of quality assurance engineers for identifying bugs from day one. As a result, the product will have fewer crashes, which will ultimately be removed during the development stages.
Services Offered by a Software Development Company
Some software development companies are great at building SaaS products, while others are experienced in custom software development. Likewise, there are software houses which can create all major types of software solutions. So let's find out the most common services a reliable development company should offer. 
Also Read: A Guidebook to SaaS Product Development Process
1. Custom Software Development
A custom software development organization helps develop customized software to fulfill your customers' needs. Such companies can provide you with tailored products and services. 
2. Mobile App Development
There are no second thoughts on the fact that mobile usage is growing with time. A mobile development company helps build applications for smartphones and mobile devices like Android and iOS.
Furthermore, the app software development also covers developing mobile versions of computer-based or web-based applications. You can also count on them to create exclusive mobile software. 
3. Web Development
A software development company offering to build websites for your business falls into this category. These development services can benefit all industries and organizations regardless of their size. 
4. Software Consulting
A software consulting service analyzes your business's software requirements and builds solutions accordingly to ensure successful operations. 
How to Choose the Right Software Development Company?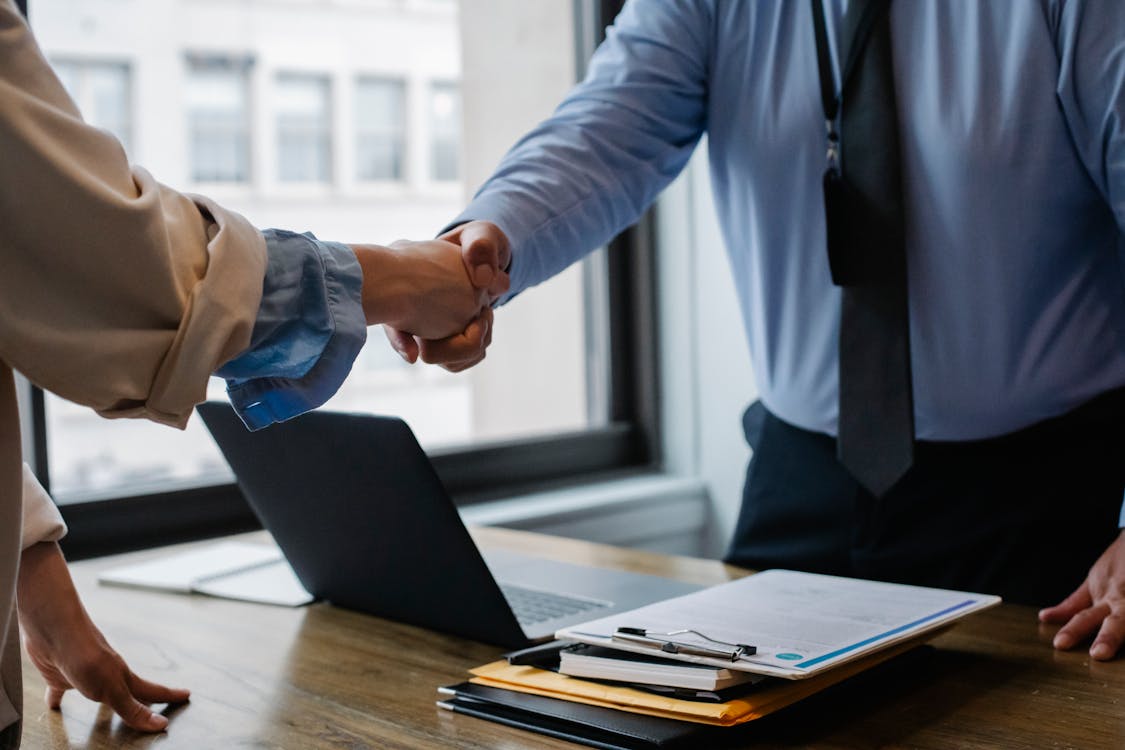 Now that you know the qualities and different services, let's help you pick a committed software development company through the following factors. 
1. Portfolio
A portfolio is a collection of a company's past projects successfully built and delivered to clients. So whenever you need to hire a software firm, make sure to check its portfolio. Examine what industries the organization has served and if there are similar projects to yours. 
2. Experience
Experience plays a crucial role in finding the jewel in the crown. Look for a software development company with a long history and engagement with all significant technologies. Moreover, the company should be experienced in various development services – from building custom software and mobile apps to creating high-end fintech software. 
3. Dedicated Project Manager
It needs more than one software developer to create an exceptional application. Since multiple minds work on the same project, they need someone to look after the progress. You should pick a company that ensures assigning a dedicated project manager to get things done. The person will be in charge of planning, executing, and delivering your digital product on time. 
4. Quick Communication
As you know, transparent communication is one of the qualities of a software development company. The service provider must have the means to communicate quickly and effectively to solve your problem. It should give you easy ways to approach them through official emails or contact forms. A good company will also strive to provide outstanding and responsive customer service to answer your queries throughout the process.
5. Pricing
Before choosing a company, don't forget to check its pricing. The best software development company will have transparent pricing without any hidden costs. On the other hand, always confirm the price before going into any agreement. 
Conclusion
A software development company prioritizes goals through leadership, expert teams, and effective communication. However, you should know the type of software you need to scrutinize companies through their services.
There are development firms with a single speciality. You can also find companies that build multiple software types, such as web and mobile applications and trusted presentation software. But before you decide on a service provider, check their portfolio, ask for a dedicated project manager, and confirm pricing.
At Slash, we develop software that fits your needs. We are an agile software development company committed to building and delivering digital products with market-capturing features. With the right technology stack, knowledge, experienced professionals, and dedicated project managers, we ensure the creation of industry-leading solutions at transparent pricing. Contact us for software consulting and top-notch development services.
FAQs – Software Development Company
Q1. What does a software development company do?
A software development company designs and develops frameworks, tools, and custom software applications to achieve business goals or solve users' problems.
Q2. Which company is best for software development?
An ideal software development company has a great portfolio, a proficient team, and transparent pricing. 
Q3. What is a software development company called?
A software development company is also known as a software house, software firm, or software company. 
Q4. What is the biggest software development company?
According to Forbes, Microsoft is the biggest software development company.
Tag Cloud
Agile
-
Agile Delivery
-
Agile Team
-
AI
-
amazonecommerce
-
Animal Framework
-
app retention
-
Attracting talent
-
Autonomous weapons
-
B2B
-
blockchain
-
businessbuilding
-
Business building
-
Clean code
-
Client consulting
-
cloud platform
-
Code Refactoring
-
coding
-
Company building
-
Computer Vision
-
Corporate startup
-
cryptocurrencies
-
de-risking business building
-
Deepfakes
-
Deep Learning
-
DeepMind
-
derisking business building
-
design company
-
Design Research
-
design thinking
-
Developer Path
-
DevOps
-
Digital Ownership
-
Digital Product Roadmap
-
Digital Product Strategy
-
ecommerce
-
entrepreneurs
-
Figma
-
founder equality
-
founder equity
-
front end developer
-
Fullstack Engineer
-
Growth strategy
-
Hook model
-
how to increase app retention
-
Incubator
-
innovation
-
Iterative and Incremental Development
-
IT Outsourcing
-
IT Staff Augmentation
-
kanban
-
legacy system
-
Manual Testing
-
Market Research Competitive Analysis
-
Market Research Service
-
Metaverse
-
methodology
-
mobile apps service
-
Mobile Engineer
-
Natural Language Processing
-
NFT
-
NLP
-
Offshore Software Development
-
Offshore Software Development Services
-
online recruitment
-
playbooks
-
Podcast
-
Product Design
-
Product Development
-
Product Development Strategy
-
Product Owner
-
Product strategy
-
product versions
-
project management
-
Prototyping early-stage ideas
-
Quality Software Development
-
Quantum Computing
-
Recruitments
-
recursion vs iteration
-
refactoring in agile
-
Remote Work
-
Research
-
research problem
-
Robotics
-
Sales machine
-
scalable software
-
Scrum
-
Scrum Master
-
Self-Driving Cars
-
Serial entrepreneurs
-
Slash
-
software
-
software design
-
Software Development
-
Software Development Company
-
software development team
-
Software Engineering
-
Software Product Development Services
-
solution architect
-
Spotify Model
-
Staff Augmentation
-
Staff Augmentation Services
-
Staffing Agency in Singapore
-
teamwork
-
Tech Talks
-
tech teams
-
tech vendor
-
testing playbook
-
The Phoenix Project
-
Unit testing
-
user interview
-
user retention design
-
VB Map podcast
-
Venture Building
-
Venture building strategies
-
Venture Capital
-
venturecapital
-
virtual retreat
-
Web3
-
Web and Mobile Apps Service
-
web app service
-
Worker Agency Singapore